A few weeks ago, the epicurians at that finest of restaurants known as Kentucky Fried Chicken (KFC to us lesser mortals) released the single greatest invention since homo sapiens realized they needed food or food-like substances for survival.
Coming down from the mountains of heaven with a cheap cardboard box of greasy, gooey goodness, the product creators at KFC bestowed upon us the Double Down. Unfamiliar with this most delicious of gastrointestinal delights? Let me break it down for you:
Step 1: Take two boneless, fried chicken filets, and cover them with cheese.
Step 2: Add bacon. Everything is better with bacon. Do not question it. If I need to explain the presence of bacon, we have failed as a culture.
Step 3: Slather on Colonel Sauce. What is Colonel Sauce? My best guess is that Colonel Sauce is 1/3 mayonaise, 1/3 MSG, 1/3 nuclear waste, and 7/3 awesome. It is the best part of the Double Down, without question. A few too many of these things and people will be showing up at their local KFC asking for buckets of Colonel Sauce. Hold the chicken, bacon, and cheese.
Step 4: Put it together, sandwich-style. Do not add a bun. I repeat: DO NOT ADD A BUN. Such a genius creation need not be sullied with mere bread.
Step 5: Enjoy.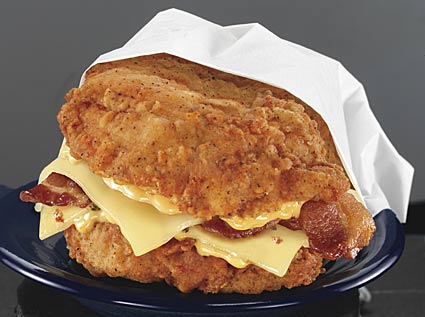 At this point, many people are probably wondering: yeah, I know how a sandwich is made, but is it any good?
Fear not. I am here to say that yes, it is. I first ordered it with much trepidation, expecting it to taste like the cardboard and paper that housed it. I could not have been more wrong. The Double Down could use more bacon, but outside of that it is delicious all the way through. Eating a Double Down is like tasting the very essence of quality fast food itself. All the flavors combine in each bite to form a greasy, tasty, awesome foray into dinner. Add in potato wedges and a drink (diet, of course), and it is truly a meal for the ages.
Sure, it has a lot of calories, but so does every other item ever sold at a fast food restuarant. Ingesting any kind of salt for a week after eating the Double Down is probably not recommended, but that's the price one must pay for deliciousness.
A new era of fast food has dawned. Heaven, thy name is Double Down.
-Tommy Morgan Jr.