So, the VMA's came and went, providing the mediocrity we've come to expect in recent years. Rihanna donned hair extensions for a disappointingly lackluster rendition of "Disturbia," Christina Aguilera debuted her new single with bizzare eyeliner... yadda yadda yadda.
When the most scandalous moment is Jordin Sparks saying the word "slut" over the mic, you know there's a problem. Let's face it: the days of purple-pasties and Madonna make-out sessions are over.
But in her typical fashion, one woman managed to steal the show - and this time, she didn't even show her belly button:
The one, the only, Ms. Britney Spears.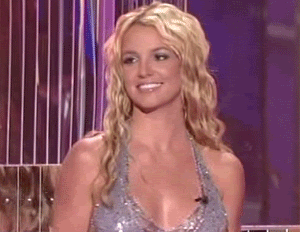 After weeks of speculation, Brit Brit heard her name called three times - yes, a TRIO - at the Video Music Awards on Sunday, ending a career long losing streak at the MTV awards. (Somewhere, Susan Lucci is crying tears of approval.)
And really, it's about time.
For all of the attention Britney has given the VMAs through her snake-charming, suit-stripping performances and iconic music videos, you'd think they would have returned the favor at some point, especially in her heyday (try denying the epicness that was the red "Oops!...I Did It Again" catsuit. TRY). But alas, MTV has simply exploited her viewer-magnet persona.
Perhaps a guilty conscience finally drove "Music" Television to give one of their most bankable stars the award she's been patiently waiting for for years. Or maybe the competition really wasn't that stiff this time around (because in all honesty, the "Piece of Me" video wasn't all that great). In my opinion, MTV once again knew that by giving Britney three awards, that would draw just as much attention as, say, her infamous failure at last year's ceremony. Good planning on MTV's part, but it's we the viewers who suffer.
It's a bit sad when the actual awards presented at the VMAs overshadow the outlandish performances. A note to whoever is planning (and performing at) the 2009 go-round: Step up your game. You know the VMA show is one of the easiest ways to quickly get yourself some publicity and to raise your status. Take advantage of it, because when you shine, everyone beneifts.
Or at least I do, because then I'll have something to fuel my lame jokes and gossip instinct for at least a few weeks.
-Jake.